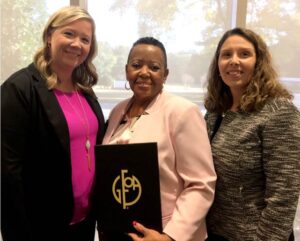 The Government Finance Officers Association (GFOA) has awarded Midlands Technical College (MTC) the Certificate of Achievement for Excellence in Financial Reporting (CAFR) for fiscal year 2018-2019. The certificate is the highest form of recognition in the area of governmental accounting and financial reporting, and its attainment represents a significant accomplishment by a public college or university.
"The Certificate of Excellence in Financial Reporting is a very prestigious award for MTC," said Debbie Walker, Vice President for Business Affairs. "The CAFR award is real evidence of the college's commitment to fiscal integrity and fiscal transparency. It takes the entire college working together to achieve such amazing results. I'm very proud of the college and its exceptional financial reporting."
The GFOA reviews member reports to determine compliance with both generally accepted accounting principles (GAAP) and program policy as established by the GFOA's Special Review Executive Committee and the GFOA Executive Board. The GFOA represents more than 18,000 federal, state/provincial, and local public finance officials throughout the United States and Canada.
This is the 23rd consecutive year Midlands Technical College has received the prestigious national award from the Government Finance Officers Association of the United States and Canada for its financial reporting. Only about 80 colleges and universities nationwide earn the certificate in a calendar year.
Photo caption (left to right): Jessica Booth, Director of Finance and Financial Reporting; Debbie Walker, Vice President for Business Affairs; and Sheila Smith, Associate Vice President for Business Affairs, accept the CAFR award on behalf of MTC.
ABOUT MIDLANDS TECHNICAL COLLEGE
Midlands Technical College (MTC) is a non-profit, six-campus, two-year public college serving Richland, Lexington, and Fairfield counties in South Carolina. The college provides higher education opportunities that stimulate the local economy by generating a world-class workforce and enhancing the social vitality of the community. MTC enrolls approximately 28,000 students annually, making it one of the largest providers of higher education in South Carolina and one of the largest providers of transfer students to the University of South Carolina. The Corporate and Continuing Education (CCE) program is one of the largest and most comprehensive in the Southeast and provides training to hundreds of area businesses each year. Learn more at MIDLANDSTECH.EDU.